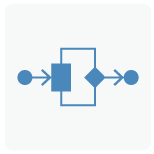 Payment Request
Business Process
Last Updated on 05/22/2018
Compatible with ELMA versions from 3.8 (inclusive) to 3.13 (exclusive)
More
Description
This business process is used to give employees cash in order to compensate for certain corporate expenses, which include trip costs, equipment purchasing, freelancer service payment and other non-regular expenses.
Usually, several departments are involved in giving out organization's money. A payment request has to be approved by executives. Executors have tasks according to their job position. The request initiator has to personally control and sometimes ask that the employees of other departments complete their tasks. It often looks more like asking for favors, than business relationship.
If you provide accurate execution of regulated operations, your employees will achieve the result faster and with less effort. This business process can help you solve this task.
Details
---
---
---
Version Log
---
A user starts the process in ELMA web interface and fills out the request form.
The request contains information on the recipient, payment amount, purpose and date.
The system identifies which manager has to approve the request. The user can also select other request approvers.
Executors receive tasks according to the process model. The manager and the budget owner approve the request. When an accountant is assigned with a task to give out cash, they can see all the information on the payment request in one place.
The business process completes after the initiator reports that the money has been received.