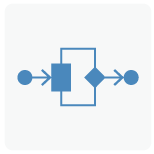 Outgoing Mail Processing
Business Process
Last Updated on 12/26/2017
Compatible with ELMA versions from 3.7 (inclusive) to 3.9 (exclusive)
More
Description
A business process, which regulates creating, approving, registering and sending outgoing mail. Many organizations follow these standard document management procedures.
This business process allows you to:
Make processing of outgoing mail consistent.
Follow procedures when registering documents to enable quick search by their parameters: recipient, date, reply and so on.
Prevent sending important correspondence without approving and registering it.
This ready-to-use business process relieves you from the necessity to think through the mail handling procedure. It includes all the operations you need for working on outgoing mail. By installing this process, you ensure consistency in creating and sending mail.
Details
---
---
---
Version Log
---
A company's employee creates outgoing mail in ELMA ECM+, by filling in required fields and attaching an electronic version of the document.
According to the organizational structure, the system identifies the manager of the process initiator. The initiator manually selects the person, who signs the document and, if necessary, specifies other approvers.
Approvers can send the mail back for revision. Then the new version is sent for approval.
A secretary registers the document and sends it to the recipient.
When the outgoing mail process is automated, you can save much time on approving and sending mail. The system saves information on the correspondence and you can find it at any time.