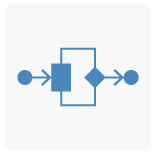 Contract Approval
Business Process
Last Updated on 02/05/2018
Compatible with ELMA versions from 3.7 (inclusive) to 3.9 (exclusive)
More
Description
A business process, which automates company's contract management in ELMA ECM+ application. The process includes tasks of creating, approving, signing and registering a contract-type document (contract, appendix to contract, additional agreement and protocol of disagreements). The process also allows controlling, that the original copies, signed by the contractor, were received.
Operations are well-regulated, and you always know, at what stage a document is.
Details
---
---
---
Version Log
---
Users can receive and complete tasks in ELMA ECM web interface.
All actions, executed with the document outside the system – e.g. receiving the original document, signed by the contractor – are also a part of the business process.