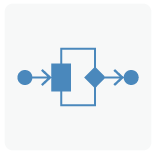 Complaint Processing
Business Process
Last Updated on 02/09/2018
Compatible with ELMA versions from 3.7 (inclusive) to 3.13 (exclusive)
More
Description
Sometimes companies receive complaints from contractors. Delays in product delivery, late payments, and noncompliance with contract obligations are the most common reasons for complaints. Whatever the reason for a complaint is, a company needs to quickly respond to it, solve the problem and make amends for the inconvenience of the counterparty. This will save the company's reputation and make further cooperation possible.
The Complaint Processing business process regulates the procedures for receiving, investigating and acting on a complaint filed by a counterpart. Every received complaint is saved in ELMA ECM+, an electronic document management system. The registered document goes through the respective lifecycle stages, from an investigation to a responding to the counterpart.
Complaint Processing does not require much time. Users do not need to find out which department or official should handle the complaint. When starting the process in ELMA, the manager sets the date of sending a response back to the counterparty. The system monitors schedule compliance at all stages and assures that the tasks are complete by the time specified.
Using the process, companies can speed up complaints processing and promptly inform the counterparts on the measures taken to eliminate any inconvenience.
Details
---
---
---
Version Log
Requires

ELMA BPM versions from 3.12 (inclusive) to 3.13 (exclusive)

Requires

ELMA BPM versions from 3.9 (inclusive) to 3.10 (exclusive)

Requires

ELMA BPM versions from 3.8 (inclusive) to 3.9 (exclusive)

Requires

ELMA BPM versions from 3.7 (inclusive) to 3.8 (exclusive)

Requires

ELMA BPM versions from 3.7 (inclusive) to 3.8 (exclusive)
---
Users process contractors' complaints in ELMA ECM +
After receiving a complaint – for example, an incoming mail – a user creates an electronic document in the system. They set up the expiration date, specifying the time limits for procedures; fill out other necessary information, and send the document for registration.
A decision maker receives the registered document for consideration.
They select an executor who will prepare a response, may assign additional tasks associated with the document, and specify users who must be informed about the decision. The system will automatically send notifications and tasks to each responsible user.
Having implemented a business process, the company can gradually extend and evolve it. For example, customize complaint routing; add necessary stages to the document lifecycle. It is also possible to configure process metrics and use them for incentive programs.